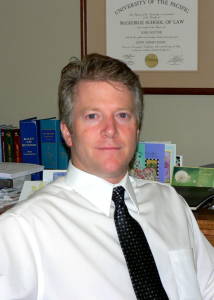 About John J. Rank
Certified Specialist – Estate Planning
Trust and Probate Law- State Bar of
California – Board of Legal Specialization
John Rank has been a full-time practicing attorney in California for 27 years. He is a Certified Specialist in Estate Planning, Trust and Probate Law, as certified by the State Bar of California, Board of Legal Specialization. This means John has passed an extensive written examination, has satisfied requirements for wide ranging experience in these practice areas, has fulfilled ongoing educational requirements, and has received favorable reviews from other attorneys and judges familiar with his work.
John obtained the degree of Bachelor of Arts in business economics from the University of California, Santa Barbara, in 1986. After working in finance for several years, he made the decision to pursue a law degree and attended McGeorge School of Law, graduating with a Juris Doctor degree in 1992. He is a member of the Trusts and Estates Section of the State Bar of California, and is a past president of the North Valley Estate Planning Council. He is an active member of the Paradise community, recently serving as the president of the Rotary Club of Paradise. He has served as a board member of the Boys & Girls Club of the Paradise Ridge, Paradise Performing Arts Center, and Youth for Change. John has given numerous presentations to Butte County communities on estate planning topics, including trust and estate administration, tax planning and charitable giving strategies, incapacity issues, special needs trusts, and Medi-Cal planning.
John's office focuses on estate planning and administration, dealing with the interplay of business, tax and estate planning on the one hand, and family dynamics on the other. Many of his clients are farmers or other small business owners, and with the aging of the Baby Boomers business succession planning is becoming even more important as they transfer businesses at retirement or through their estates. Much of John's services are tax sensitive. He handles a broad spectrum of wealth transfer planning projects, from simple revocable trusts to complex family controlled entities and multi generational trusts.
John lost his law office in Paradise, California, due to the Camp Fire of November 8, 2018. John is currently residing in Paradise, however, he has relocated his office to Chico, California, and will continue to meet the legal needs of his clients located throughout California. Please note our new address. While we will retain our Paradise phone number (530) 877-2600, we have added a Chico number of (530) 891-4000.